Interim management & turnaround management
I-Teams core expertise is program and project management
Kickstart new programs which can't be handled by the Business as Usual organization
Turnaround existing programs
Enable organizations who are perfectly set up for operations and business as usual to deliver new innovative company wide programs
I-Teams take over responsibility - we steer and don't only support
Our strong ICT domain expertise accelerates your business!
Differentiator to Consulting and Personnel Leasing
Interim Management
Short / mid term
In or out of line organisation
High responsibility
Consulting
Short Term
Out of line organisation
Low responsibility
Personnel Leasing
Long Term
Within line organisation
Low responsibility
Interim management Teams
By introducing interim managemen teams we bring this topic to a whole new level! This brings direct benefits for our customers.
Well established teams
Flexible phasing from set-up until full handover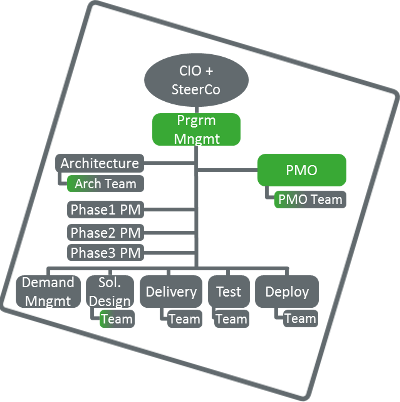 Example orgchart of successfully deployed tier1 telco program
I-Teams supported as (green roles)
Program Management (reporting to CIO)
Architecture
PMO (Lead and team member)
Solution Design